Stations of the Cross
Lourdes, France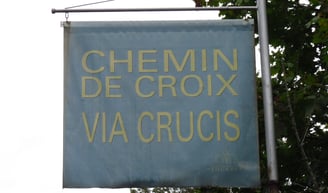 Almighty and eternal Father, we thank You for sending Your Beloved Son to die that we may live eternally with You. Lord Jesus Christ, as we recall your Passion, fill our hearts with love and mercy for all people. Holy Spirit, guide us and strengthen us so we can be united to our Lord Jesus in all that we do.
Amen.
The Stations of the Cross is a meditation and prayer devoted to the Passion of Jesus on His road to Calvary. It brings into focus the entire sufferings of Jesus as He died for our Salvation, as opposed to only His death. In this way, the faithful can gain a greater appreciation for how their sins caused Jesus not just to die, but to painfully suffer along the way. It is most commonly prayed during the season of Lent but is spiritually beneficial to pray and meditate any time.
The Stations of the Cross originated in pilgrimages to Jerusalem and a desire to reproduce the Via Dolorosa (Latin for "Sorrowful Way"); which is a processional route in the Old City of Jerusalem that represents the path which some believe is the actual path Jesus took on the way to be crucified. During the 15th and 16th centuries the Franciscans began to build a series of outdoor shrines in Europe to duplicate their counterparts in the Holy Land. The number of stations varied from 7 to 30 and in 1731 the number was fixed at 14.